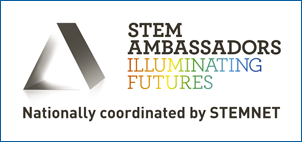 TSET's History with STEMNET
Dr Alison Beaney led the way back in 2011 when she became a Science Ambassador with STEMNET. After finding out just how rewarding and important this initiative is, she encouraged other committee members to join up too, and several duly did.
TSETs STEM ambassadors have been involved in activities both large and small, encouraging youngsters to engage with science, and open their eyes to possible career paths in Pharmacy. TSET have naturally taken the opportunity to highlight career pathways in the technical aspects of pharmacy and have ensured all the varied pathways have been showcased.
Activities have ranged from school careers events, hands on science activities at both primary and secondary schools plus helping to coordinate activities at the National Big Bang Fair at London's Excel Centre.
Over the years, we have demonstrated hand hygiene, environmental monitoring, gowning up, finger dabs, colony morphology, IV additives and PN preparation to name but a few. Our ambassadors have been so sucessful, they have been asked back to some schools repeatedly.
So how does the scheme work?
Interested schools contact their local STEM coordinator to ask for STEMNET to match them with an ambassador to help with an activity or event they are planning. The STEM coordinator circulates the requests around their local ambassador network so interested ambassadors can volunteer to help. Sometimes the coordinator might have a particular ambassador in mind for the event if they think they are a good match for the schools needs. In this case the coordinator may approach an ambassador about the opportunity or put the school in touch.
Why we support this initiative.
It is immensely rewarding to to be able to show science in action and demonstrate how the skills and knowledge the children cover in their science subjects are actually used in the workplace. This brings the skills alive.
Sometimes children can become more enthusiastic about the sciences when a hands on, fun activity opens their eyes to new possibilities. Likewise, many youngsters are blissfully unaware of the varied career paths in Pharmacy and are fascinated to learn about roles in Aseptics and QA for example.
This volunteering scheme provides a great opportunity to discuss the varied entry points in Pharmacy. The majority of the public are aware of Pharmacists, but perhaps not their varied roles. In addition, many children and their parents are unaware of Pharmacy Technician and Assistant roles and apprenticeships.